Nadia is a beautiful and attractive Czechoslovakian foreign exchange student who attended East Great Falls during the fall of 1999. She is Jim's love interest in American Pie and American Pie 2. In American Pie, Jim tries to lose his virginity with her. He tries to make it seem as if it is a study group. We see that she has a type of sex drive in the first film, along with being tall, sexy and having nice figure. When Jim tries to find a girl to lose his virginity to, she asks to try and help with her studies. Knowing that he could use this advantage to have sex with her, he told her that they could start tomorrow. The problem was that she had ballet practice after school, but she asked if she could change clothes in his room, which instantly agreed to. When she meets him at his house after her ballet practice. He tells her to go change in his room while he'd get something. He really tried to peek at her with his friends on webcam.
There she stripped half naked, only wearing her underwear. When she found his porn magazine she masturbated to it and lost attention to her surroundings. Jim ran back to his house to make a move. When he snuck in, she noticed him and caught him red-handed. At first she was mad, but then she told him to return the favor by stripping himself. Jim did as he was told, and when he did she found him kinky. When she was about to deflower him, she took off her panties showing Jim her front. The sight of her unique vagina causes Jim to ejaculate prematurely. However, her exchange family saw this webcam video, and sent back to Central Europe.
At the end of American Pie 2 when Jim chooses Michelle over her, she is sad and hurt but then meets Chuck "Sherminator" Sherman and develops an instant sexual lust for him and drags him upstairs to have sex. The next morning, she is seen in bed cuddling with him.
It is unknown what happens to their relationship after that, but it can be assumed that it was a one night stand as Sherman later married and divorced someone else.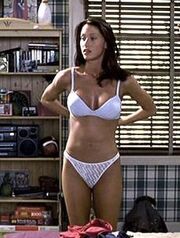 She is absent in American Wedding but is mentioned and is the topic of a conversation between Jim and his father. She makes a brief cameo in the ending moments of American Reunion, with a new boyfriend (or possibly husband) named Mitch, who is short in stature and looks an awful lot like Jim. Mitch, however, does not see the resemblance.
She has a fetish for 'geeks'. She also has large areolae.
Ad blocker interference detected!
Wikia is a free-to-use site that makes money from advertising. We have a modified experience for viewers using ad blockers

Wikia is not accessible if you've made further modifications. Remove the custom ad blocker rule(s) and the page will load as expected.