Rob Shearson
is the main character in
The Book of Love
. Rob tends to resemble and is similar to
Jim Levenstein
as he masturbated with a peanut butter and jelly sandwich like Jim did with the apple pie. Rob's obnoxious brother Cody throughout the film records Rob's mishaps and posts them on the internet. Rob stumbles onto the Book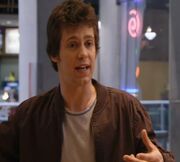 of Love or The Bible (seen in the original American Pie). Unfortunately the book is ruined due to water splashing on it. After endless failures to comply with the book's tips he and his friends Nathan and Lube seek out the original creator,
Noah Levenstein
. Noah gives them his advice and calls out to the others who made it and receives their pieces of advice, thus reincarnating the book for good use. They then use the new found advice to stabalize their relationships. In the end Rob films his brother Cody masturbating with the vaccum, much to Cody's horror. He and his crush on Heidi are in live in the whole movie. At the end of the movie, they finally got together and finally got laid.
Ad blocker interference detected!
Wikia is a free-to-use site that makes money from advertising. We have a modified experience for viewers using ad blockers

Wikia is not accessible if you've made further modifications. Remove the custom ad blocker rule(s) and the page will load as expected.